Selena Gomez Gets Matching Tattoos With 3 Friends — See The Pics!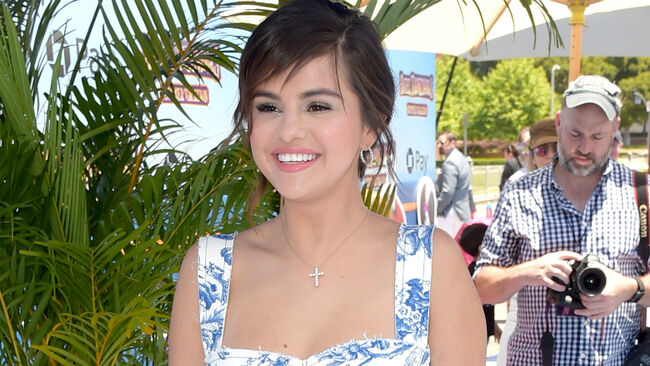 Lifelong friendships deserve lifelong ink.
In honor of her best friend's 26th birthday, Selena Gomez and three of her girlfriends decided to make their friendship a little more permanent by getting matching tattoos. The "Wolves" singer documented their tattoo journey in a series of three Instagram posts on Saturday (August 18).
In Selena's "Part 1" post, she captioned an Instagram Series that featured shots of her and her three gal pals enjoying pizza and ice cream, "My best friend turned 26."
For "Part 2" of her birthday tribute, the "Back to You" singer showed pics from the ladies' tattoo session and explained the reason behind their "4" tattoos.
"#4 because these women have stayed by my side for 7 years (@ashley_cook 12 years) 4, because you are my 4 for the rest of my life," she wrote. "I love you ladies. You all inspire me to be better, stronger, closer to god and we have lived the most INSANE story together already. Can't wait for 50 more!!" In one funny shot from their tattoo session, Selena can be seen comforting her friend Raquelle Stevens, who Selena said had "an actual panic attack," despite the tattoo being just "a dot!"
For her last post, Selena dedicated it to her best friend and birthday girl, Courtney Barry. "My actual #1 @courtneyjbarry you are an incredible woman," she captioned a photo of the two showing off their additional tattoos of the number "1."
"The way you handle life's most confusing moments is indescribable and graceful," Selena continued. "You are moved by the littlest stories to the most heartbreaking ones, you will give someone your perfume if they say you smell nice, you are freaking hilarious and always stand firm in your faith, a loving sister, an amazing friend and a beautiful daughter. You are the definition of FEARFULLY and WONDERFULLY made baby! #1."
The 26-year-old singer ended her Saturday Instagram activity by updating her IG bio, and changing her Instagram icon. "Light, space, zest -that's God. With him on my side I'm FEARLESS, afraid of no one and nothing," she added to her bio, which still has her trademark, "By grace, through faith."
Check out Selena and her friends' tattoo journey below!